Unleash your inner diva and create a slimmer, trimmer silhouette. Just add these 7 detox drinks for weight loss to your menu.
Every good weight loss plan emphasizes hydration. Healthy, non-processed beverages, including H2O, take the edge off of hunger and help you feel fuller. Drink at least one full glass of water before every meal or snack to reduce the chance you'll overeat.
You can supercharge the hydration process, however, by choosing detox drinks for weight loss. What is a detox drink? It's a beverage made with whole food ingredients that naturally help the body rid itself of toxins—no wacky supplements or expensive spa trips required.
For example, the humble-looking ginger root has long been used as a natural detoxification ingredient; it's believed to work by stimulating digestion and circulation to clean out waste build-up. Likewise, cucumber, another popular detox drink ingredient, contains high water levels to flush out toxins plus anti-inflammatories.
1. Cleansing Cucumber Lemonade
Stay hydrated with our Cleansing Cucumber Lemonade! The fresh-squeezed lemon juice in this revitalizing beverage delivers powerful detoxing properties. Lemon juice flushes toxins and alkalizes the body. Alkalizing is a process that involves consuming foods high on the pH scale. The American diet tends to be too acidic. We consume a lot of low-pH foods like soda and cheese. Our bodies need to be alkalized to maintain optimal health. Sipping some homemade lemonade can help balance your pH level. Alkalizing your body and maintaining a balanced pH level has been linked to a lower risk of heart disease and cancer.
Cucumber is a natural refresher rich in minerals and powerful anti-inflammatory properties. A couple slices will hydrate your system and help you mellow out. It can be tough to drink enough water daily, especially if you're not used to drinking a lot of water. Although it's important to drink eight glasses of water a day, adding cucumber to your beverages is a great way to start the hydration process.
One sip of this relaxing cucumber lemonade will conjure up images of lazy summer afternoons and fill you with nutrients. Drink it in at home alone or serve it at a luncheon. How fresh!
This recipe contains natural detoxifier lemon along with hydrating cucumber for a delish and healthy detox beverage.
2. Super Green Detox Drink
From celery to kale, the green goodness in this drink will help cleanse your body.
This Super Green Detox Drink is the perfect beverage to whip up after a night of indulging. From the infinite spectrum of green juices to green smoothies, green-based drinks are certainly trending these days, and for good reason! These nutrient-rich drinks nourish and detoxify your system, and help you feel great. This recipe in particular calls for powerful superfoods like kale, spinach, and cilantro, ingredients that offer countless health benefits your body will thank you for. And if the thought of sipping on liquefied veggies makes you cringe, don't worry! We've added an apple to the recipe for a hint of sweetness that cranks up the flavor.
3. Lemon Ginger Detox Drink - Weight Loss
Ginger, which helps detox the body by boosting metabolism, is the star of detox drinks for weight loss like this one.
There's nothing more refreshing than a cool drink mixed with a few tasty ingredients that delight the taste buds. But you don't need to drive to your local coffee shop for an iced, sugary beverage filled with excess sugar and calories. And you don't need to spend hours steeping tea or muddling fruit. Try our Lemon Ginger Detox Drink for a cooling beverage that offers the additional bonus of providing your body with a cleanse that flushes the fat away. Its two main ingredients are the perfect powerhouses for a great detox that will have you feeling as light as this drink tastes!
Ginger is a powerful detox ingredient that helps to kick start your metabolism. Sipping a ginger infused beverage will have your metabolism on the rise throughout the day, allowing you to flush fat even as you take in your daily meals, and will burn extra calories as you workout. Lemons are a natural detoxifier. And with their diuretic effect, your body will more easily shed unwanted toxins.
4. Morning Lemon & Mint Detox Water
Start the morning with a natural detox to boost you awake as you wipe the sleep from your eyes.
This pretty drink is perfect for enjoying first thing in the morning.
Many people begin their day with a glass of lemon water because it flushes out toxins and gets the system revved up. It is a good idea to make this the first thing you consume in the morning. Healthy drinks come in all shapes and sizes, but this one is especially detoxifying. Lemon and mint water is fresh and invigorating. It jump-starts the metabolism and helps you awaken after a night of sleep. It also gets you hydrated first thing in the morning, after several hours without water.
In addition to drinking this lemon mint concoction first thing in the morning, you can sip it throughout the day. It's the perfect alternative for those who struggle to drink enough water because they do not care for the taste. It has a sweet and tart taste from the mint and lemon, making it far more palatable than plain water for many. Even if you enjoy the regular taste of water, this mix is a great way to mix things up and enjoy a treat. Instead of high-calorie juices and sodas, you can enjoy this drink. Not only do you avoid the bad ingredients, you add a few extra healthy ingredients to your day.
5. Pineapple Mint Spritzer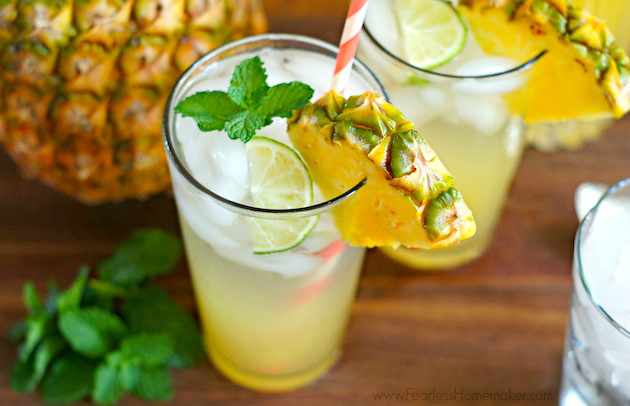 Pineapple offers bromelain, an enzyme that helps cleanse the colon the natural way.
The more natural your diet, the better for your body.
When you are faced with rows of different juices in the supermarket,many of them are bound to contain added sugars, corn syrup, or preservatives.
The healthiest choice is to always to buy fresh fruit yourself and juice it.
Jazz up your pineapple drink with this quick and easy mixture using fresh mint leaves and sparkling or tonic water.
6. Cleanse & Detox Smoothie
Flush toxins with this recipe, which includes apple, lemon, kale, celery, and more.
7. Mean Green Juicing Recipes
Discover four detox drinks that provide whole ingredients.
The health benefits of a smoothie containing fresh fruits and vegetables are extensive, but often times juices and smoothies only contain fruit and can be very high in calories.
Leafy green vegetables are helpful for weight management because they are low in calories and contain essential nutrients like dietary fiber, folic acid, vitamin c, potassium and magnesium along with phytochemicals like lutein, zeaxanthin and beta-carotene that also help protect cells from free radical damage. Studies have shown the numerous health benefits of a diet righ in leafy green vegetables. One study showed that even one daily serving of green leafy vegetables may help lower the risk of cardiovascular disease by 11 percent.
(1)
Start your day with this great
SkinnyMs. Smoothie
, or some of the juices below. There's nothing better for your body than nutrients from fresh, whole foods. Try one of these great recipes today, they're great for a breakfast, a short juice fast or just for the taste.
Mean Green Juice
1 –
Ingredients: 6-8 leaves kale, 2 green apples, 1 cucumber, peeled, 2-3 stalks celery, 1/2 lemon (no peel), 2 inches fresh ginger, 1 cup water
Mean Green Juice 2 –
Ingredients: 1/2 pear, 1/2 green apple, 1 handful spinach, 1 handful parsley, 2 celery stalks, 1/2 cucumber, 1 small piece ginger, 1 slice of papaya
Mean Green Juice 3 –
Ingredients: 2 stalks celery, 1/2 cucumber, 1/2 apple, 1/2 lemon, 1 small piece ginger, 1/2 green chard leaf (*optional, 1 additional kale leaf can be used instead), 1 bunch cilantro leaves, chopped, 5 kale leaves, 1 handful spinach
Mean Green Juice 4 –
Ingredients: 1 handful of spinach, 3 stalks of celery, 1 small handful of parsley, 1 small bunch of dandelion greens, 1 small bunch of watercress leaves, 3 leaves of green kale, 2 bartlett pears, seeded ¼ lemon, peeled ½ cucumber, peeled
.