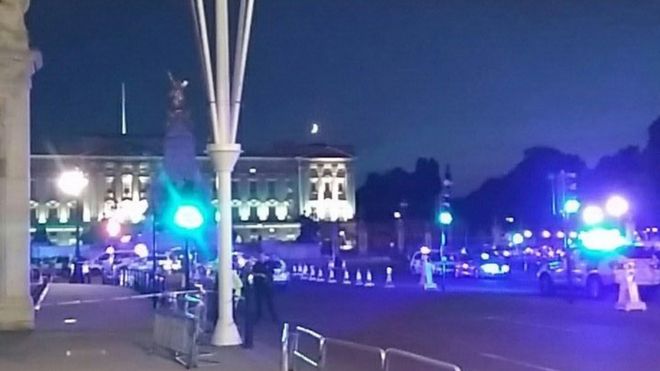 Two police officers have been injured while arresting a man armed with a knife outside Buckingham Palace.
A man armed with a knife was arrested by police outside Buckingham Palace following a disturbance.
Scotland Yard said two male officers suffered minor arm injuries when they detained him on Friday evening. Tourists reported the man behaving strangely in the Mall, in front of the Queen's residence, and alerted police.
The two injured officers were treated by paramedics at the scene, but did not got to hospital.
The Queen was not in residence at the time, police said.
Images posted online showed a heavy police presence outside the palace, with emergency vehicles packing out the road. Armed police were reported to be on the scene.
Twitter user Amir Jan Malik wrote: "Stuck outside Buckingham palace with many armed police officers. Heavy rifles on display traffic at a halt."
The officers were treated at the scene for minor injuries and were not taken to hospital, the Metropolitan Police said.
The force said the man was stopped outside the royal grounds. He has been arrested on suspicion of grievous bodily harm and assault.
The police said it was too early to know whether it was terror related.
Officers remain at the scene and inquiries are ongoing.
'Police seem calm'
One eyewitness, Nicole Kyle, was walking home when she saw police head towards Buckingham Palace.
The 25-year-old consultant said: "I was walking toward The Mall and St James's Park when I saw police rush down toward the palace in great numbers.
"As we got further down The Mall we saw armed police outside a police van, at which point we were able to walk closer to the palace still, where we were eventually stopped by a cordon.
"All we were told was that there's been an incident.
"A few minutes later police came by to have us clear the area and move further away from the palace."
Another witness, Natalie Wood, wrote on Twitter: "Police still being called into Buckingham Palace. Everything on lockdown, heavily armed police seem calm."